#ROB7
It's June, it's Bike Week, it's Belfast – sure what else would you be at?
Now in it's seventh year, Ride on Belfast brings hundreds of folk on bicycles out onto the streets of Belfast, just for the craic.
We shake off the cobwebs with a Breakfast Run around 8am from Queen's University into Belfast City Hall and then stretch the legs in the afternoon with the Tour de Lunchtime leisure ride.
Mark it in your diary:
FRIDAY 14TH JUNE 2019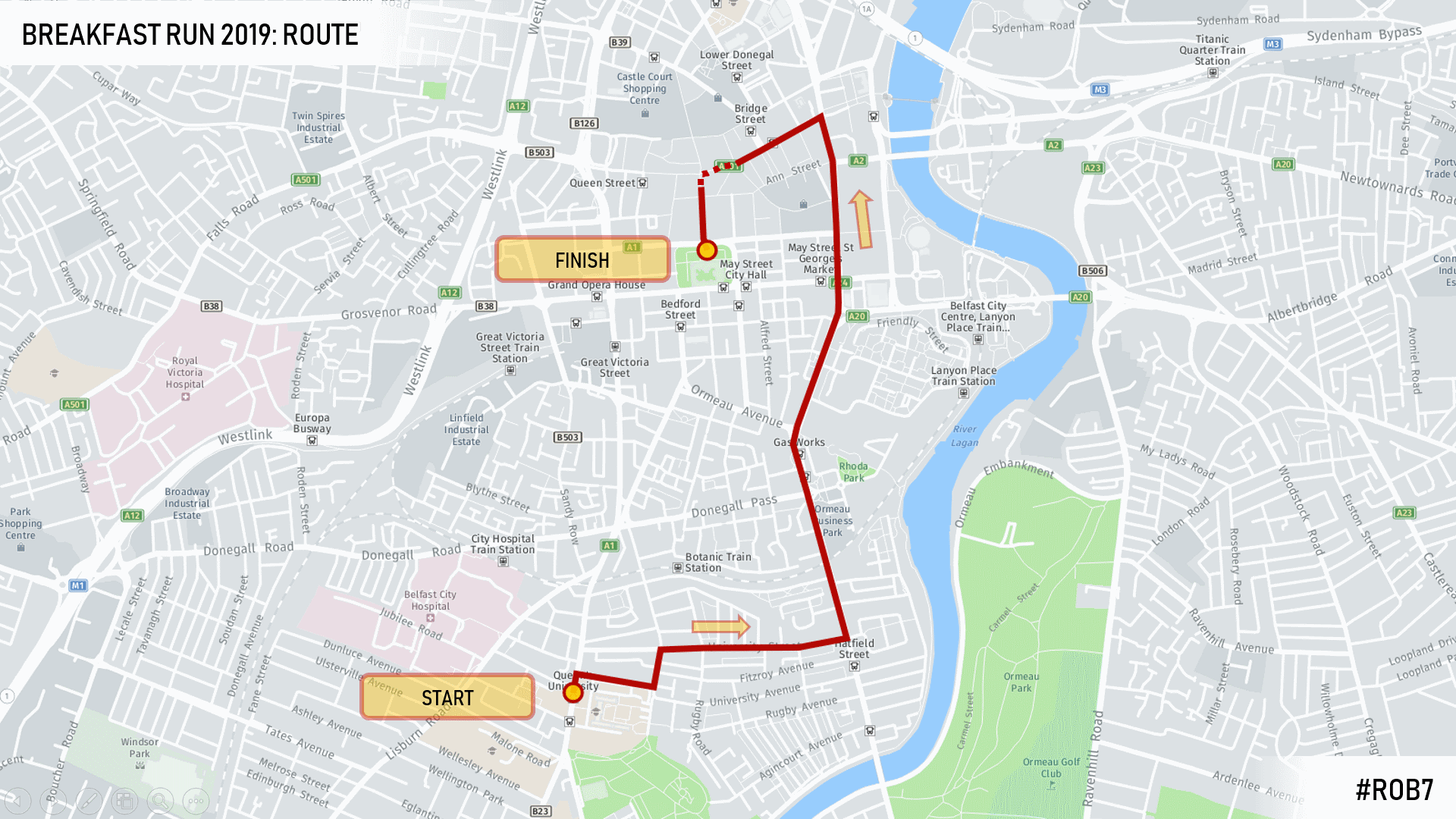 Hundreds of people on bicycles will meet at 8am at the front of Queen's University Belfast on Friday 14th June 2019.
At about 8.10am we roll out for a mass ride to Belfast City Hall where you can get a free breakfast before heading to work or about your business for the day.
We'll ride down University Street, onto the Ormeau Road where the modern bicycle was born (thanks to John Boyd Dunlop and Willie Hume) along Cromac Street, Victoria Street, left into High Street and left again down Donegall Place until we reach Belfast City Hall!
It's all about enjoying riding your bicycle in the city, with a little treat of a free breakfast when you get to City Hall.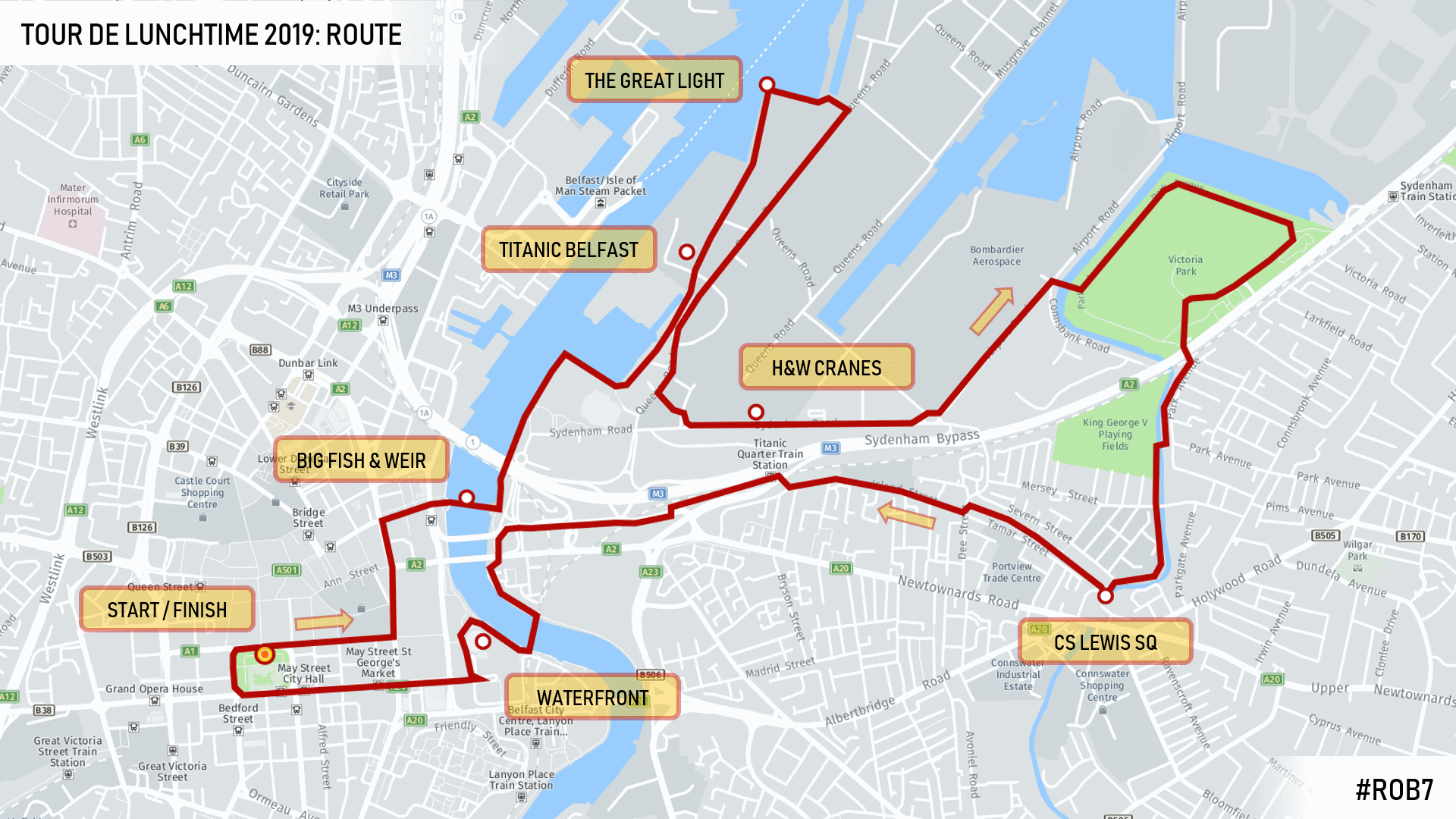 The 8am Breakfast Run doesn't suit everyone – workplace start times, childcare commitments and so on.
So Tour de Lunchtime gets us out to explore Belfast in the early afternoon.
We'll start at Belfast City Hall departing sharply at 12.30pm – get there in good time!
Tour de Lunchtime will take in such sights as:
Waterfront Conference Centre
Middlepath Street
Titanic Station
Comber Greenway
Connswater Greenway
Victoria Park
Sydenham Road cycleway
The Paint Hall
HMS Caroline
The Great Light
Titanic Belfast
Lagan Weir Bridge
Custom House Square
Albert Clock
..before returning to Belfast City Hall. It should take less than an hour.
How do I join Ride on Belfast?
Just turn up and ride! There are event pages on Facebook which you can join and share to encourage your family, friends and colleagues to take part.
How much is the entry fee?
Ride on Belfast is free – even the grub at the end of the Breakfast Run won't cost you a penny!
Wait, there's a free breakfast?
Yes, a free breakfast is courtesy of Belfast City Council and supplied on the day by various vendors.
Will the roads be closed?
No, we're riding on the streets of Belfast in general traffic.
Is it safe?
Belfast doesn't have a lot of safe cycling space, so you'll be riding on the road at your own risk. You'll need to be confident and take whatever safety precautions you feel are necessary. But we'll all look out for each other.
Have a look at the routes, or better still ride the routes in advance to give yourself an better idea. Tour de Lunchtime will be mostly away from roads, on protected cycleways and greenway paths.
Is this Critical Mass?
No. It's Ride on Belfast.
Are we taking back the roads?
No, we're just riding our bicycles like any other day – just with lots more people. Stick to the rules of the road, unless directed otherwise by one of the PSNI Officers on bicycles who like to join us for the Breakfast Run.
They'll be concentrating on keeping you safe – try not to become the focus of their attention.
Will there be feeder rides?
Check out Facebook (Bikefast) and Twitter (#ROB7 hashtag) more information on any feeder rides being organised, or get involved in organising one yourself!
Who is organising the main ride?
It's a joint effort by Cycul and Bikefast, supported by Belfast City Council, the Department for Infrastructure and made possible by all of the participants.
Who made that lovely Ride On Belfast logo?
That was Katriona Designs, or @kats_pajamas on Twitter 🙂
Contacts
Contact Cycul by email or on Twitter @cycul.
Contact Bikefaston Facebook.